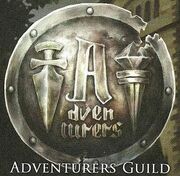 Samuel manages the Adventurers Guild. Here you can accept quests, learn skills and view the gallery within the game.
Learn Skills
Edit
After earning skill points, you can exchange them here for abilities for the character players. Besides Common Skills, which are abilities for all characters, each class has its own special skills:
Quests are special missions that grant you additional experience, gold and, most important, skill points. In this option you can select which quests to take. You can only choose five at the same time. More quests will be available the more you complete. There are a total of 50 quests.
Completing quests and finishing the game will reward with player with Treasure Art. In this option you can see the art unlocked.
Leave guild
Edit
With this option you return to town.
Community content is available under
CC-BY-SA
unless otherwise noted.